Happy Chickens make tastier eggs!
If you order your eggs from us then you are guaranteed to get the freshest Free-Range eggs around!! We offer eggs from chickens and ducks, and the possibility of emu eggs! The emu eggs are $30/ea. but are apparently the richest eggs you'll ever taste, if interested let us know. Eggs are a versatile ingredient in a great many recipes. From cakes and cookies to traditional Chinese soups and stir-fry recipes and ice cream bases. Then there is the epitome of egg ingenuity, The Scotch Egg with a Perfect Runny Yolk! Order by Sunday night to ensure you get your order by Wednesday morning.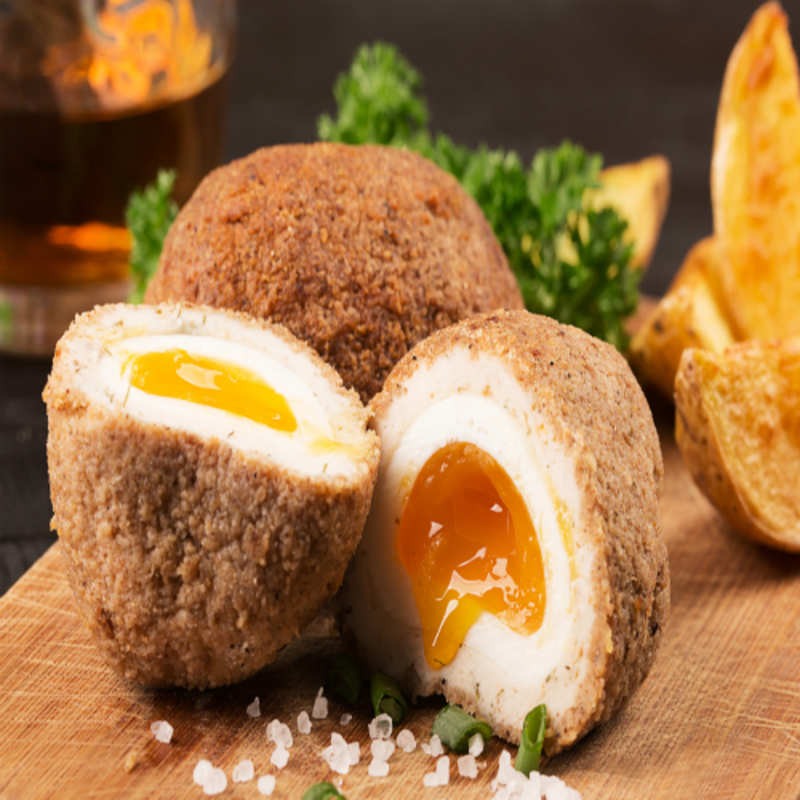 Ingredients
10

 

eggs, extra large

 

(Makes 8 Scotch eggs and you'll use 2 for the coating)

1

 

lb.

 

pork breakfast sausage

 

, raw, removed from casing

3/4

 

lb.

 

ground pork

1/4

 

cup

 

chopped mixed herbs

 

chives, sage, parsley and thyme

1/4

 

teaspoon

 

freshly ground nutmeg

1

 

tablespoon

 

Dijon mustard

Coarse kosher salt and freshly ground pepper

1

 

tablespoon

 

milk

6

 

tablespoons

 

all purpose flour

2

 

cups

 

panko breadcrumbs

1

 

quart

 

Vegetable oil

Coarse sea salt

 

optional
Instructions
Put 8 eggs into a saucepan, cover with cold water (an inch above the eggs) and bring to the boil over medium-high heat. As soon as it boils, turn heat to low and simmer for four minutes, then transfer eggs into a large bowl of ice water for at least 10 minutes. Peel the eggs.

Add the sausage, ground pork, herbs, nutmeg and mustard to a medium bowl, season with a pinch of salt and pepper. Mix well with your hands to combine. Divide into 8 balls.

In a shallow bowl, beat the two raw eggs with a tablespoon of milk. In a second shallow bowl, add the flour and season with a good pinch of salt and pepper. Add the breadcrumbs to a third bowl. Arrange in an assembly line in the order of flour, egg, breadcrumbs.

Cut a square of plastic wrap, place on worksurface, and put one of the meatballs in the middle, then place another square of plastic wrap on top. Roll out or press the meat until large enough to cover the egg. Repeat process with the other balls. When ready to use, remove the top sheet of plastic wrap.

Roll one peeled egg in flour, then place in the center of the meat. Bring up the sides of the film to encase it, and smooth it into an egg shape using damp hands. Dip each covered egg in flour, then egg, then breadcrumbs, then egg and then breadcrumbs. Repeat with all eggs.

Fill a heavy-bottomed 3-quart pot a third full of vegetable oil (at least 3 inches deep), and, on medium-high heat, bring to 350º / 175ºC (if you don't have a thermometer, check for when a few bread crumbs sizzle and turn golden, but do not burn, a few seconds after you drop them in). Fry the eggs two at a time, turning gently in the oil, for 5-7 minutes, until crispy and golden brown. Remove to a rack set over a sheet tray. Sprinkle over coarse sea salt while still hot. Serve with 

Quick-pickled red onions

, if desired.
OUR NUMBER HAS CHANGED! (909) 547-4163 Please save in your contacts.
Pick-up information
Orders can be picked up by customers at BLT's Restaurant at 41799 Big Bear Blvd in Big Bear Lake, near Summit Boulevard, typically between 6 PM and 7 PM on Tuesdays on weeks that deliveries are scheduled. Produce arrives in the farmer's crates, so bring a container or bags to transfer into if you don't want to hassle with returning the crate. A supply of reusable bags and boxes is available.
Direct delivery to the address you specify for shipping is available for an additional $5, which is selected at checkout.
Do not hesitate to contact F2M about delivery needs or order issues: 909-547-4163 (call or text). Email might not be seen quickly, so please call or text regarding time-sensitive issues.
Crate return
Many of you probably have empty crates stacking up or stored from past orders, and if you find them they can be returned to BLT's any time you pass by. If you are ordering regularly, the crates can be traded out at your next order. You are always welcome to transfer produce to a bag, box, or other container to avoid having the crate.
Visitors Who Will Return Home Soon…
If you have been a visitor in Big Bear during the covid19 stay-at-home order, please return your crate before you leave Big Bear. If you wish to be removed from the Farm2Mountain email updates, just let me know as well. You are always welcome to order if you return!
Big Bear Prime Meats
Big Bear Prime Meats offers a wide variety of naturally-grown (including organic) meats that come from sources near the Big Bear area. To order, contact Big Bear Prime Meats directly at 909-725-8820. Since they are an independent operation and have a different order and delivery schedule.
How to clean produce
To clean your produce, a few drops of natural dish soap in a sink of water will be enough to wash off anything lurking on your food. Thick-skinned produce can soak a few minutes, leafy greens just need a dip and swish, and thin-skinned produce can be dipped and wiped or soaked quickly. Rinse everything well. Vinegar can turn leafy greens black if it's used as a veggie wash in too high a concentration, and it might not kill viruses. Soap-based cleaning products will strip the virus of its outer coating and kill it.